UPCOMING PROGRAMS
Regular programs are held at the Thurber Center, 91 Jefferson Avenue, Columbus, Ohio.
Socializing begins at 7:00 pm and the program begins at 7:30 pm, unless otherwise noted.
Parking is available behind the Thurber Center as well as in the State Auto lot off of N. 11th Street.
February 8, 2018
"Women Obstinate in Mischief": Commonplacing Femininity in Meisei University's Shakespeare First Folio (MR 774)
Alan B. Farmer, Associate Professor of English at Ohio State University, examines the marginalia in the most extensively annotated extant copy of the Shakespeare First Folio, Meisei University's MR 774. Nearly every page of this volume, from the opening scene of The Tempest to the conclusion of Cymbeline, contains underlining, dots, slashes, and notes most likely made by a Scottish reader in the 1620s or 1630s.
While several topics clearly interested this reader, he was more than unusually attracted by the plays' moments of antifeminist misogyny, such as Hotspur's contention in Henry the Fourth, Part One that secrets are "not to be trusted to women," a comment by Hamlet about "women's dissimulation," or Master Ford's conviction in The Merry Wives of Windsor that women are "obstinate in mischief."
Although this reader's notes have usually been viewed as one person's idiosyncratic responses to Shakespeare's plays, Farmer argues instead that the Meisei reader's misogynistic marginalia grew out of a wider set of early modern reading practices taught in schools and universities. In particular, this reader's notes often take the form of commonplaces, that is, sententious adages he either transcribed directly from the First Folio itself or was inspired to create by Shakespeare's plays.
Commonplacing was a ubiquitous reading practice in early modern England, but the Meisei reader's approach to commonplacing women could also lead him to fundamentally misunderstand some of Shakespeare's plays. When he tried to make sense of The Merry Wives of Windsor, he turned the play into a dark fantasy of cuckolds, bawds, and "whoores subtile shifts."
Ultimately, Farmer suggests that the Meisei reader's misogynistic marginalia and misreading of Merry Wives provide us with an insight into different, and more disturbing, ways that Shakespeare was read, interpreted, and appreciated as literature in the seventeenth century.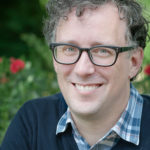 Alan Farmer has published widely on Renaissance drama and the book trade in early modern London. He is the co-creator, with Zachary Lesser, of one of the earliest and most widely used Digital Humanities resources in early modern studies, DEEP: Database of Early English Playbooks, on online resource for studying the printing, publishing, and marketing of Renaissance drama.  He also co-edited, with Adam Zucker, the essay collection Localizing Caroline Drama: The Politics and Economics of Early English Stage, 1625–1642 (Palgrave, 2006). He is currently working on two projects, one with Zachary Lesser on Print, Plays, and Popularity in Shakespeare's England, and the other on Newsbooks, Playbooks, and the Politics of the Thirty Years' War in England.
March 8, 2018: Ravneberg Lecture
Science Writing for experts and others presented by Marcia Bartusiak, Professor of Science Writing at M.I.T
In the tradition of exploring science and authors, Marica Bartusiak will share her passion for science and the history of scientific discovery of heavenly phenomena. Combining her skills as a journalist with an advanced degree in physics, Marcia Bartusiak (pronounced Mar-sha Bar-too'-shack) has been covering the fields of astronomy and physics for more than three decades. The author of six books, she is currently Professor of the Practice of the Graduate Program in Science Writing at the Massachusetts Institute of Technology. Her latest books are a revised edition of Einstein's Unfinished Symphony, the award-winning history of gravitationalwave astronomy and its first detections, and Black Hole: How an Idea Abandoned by Newtonians, Hated by Einstein, and Gambled on by Hawking Became Loved. Bartusiak's other books include The Day We Found the Universe, Archives of the Universe, Through a Universe Darkly, and Thursday's Universe. If you want to read more about the speaker and her books, check out her website https://www.marciabartusiak.com/.
April 12, 2018
Frankenstein at 200, a Presentation by the Frankenstein Project of Arizona State University's School for the Future of Innovation in Society presented by Robert Cook-Deegan, M.D
"Frankenstein," a story written on a dare by an 18-year-old Mary Shelley on a gloomy summer holiday with her lover and friends, was published 200 years ago. Celebrate the bicentennial of the novel and its enduring impact with a presentation on April 12, 2018, by Robert Cook-Deegan from Arizona State University's Frankenstein Project (https://sfis.asu.edu/), an extraordinary multi-year effort by the School for the Future of Innovation in Society. The Frankenstein Project delves into the novel's "landmark fusion of science, ethics, and literary expression." It explores the novel's lasting impact on issues and ethics surrounding the present day development of medicine, artificial intelligence, science, art, literature, and movies. ASU's School for the Future of Innovation in Society adopted Shelley's story of unconventional creation and its eccentric creator to prompt discussion and contemporary projects while addressing the questions: What is life? What does it mean to be human? Why do we create?
Frankenstein is believed to be the first science fiction novel and certainly influenced the genre of horror literature and, later, film. Shelley likely drew from the fears and anxieties of her contemporaries, the early experimentation and fear of electricity, the resurrectionists, and study of surgery. The program will also address her legacy that leaves the issues of responsibility and ethics in what we create today. Robert Cook-Deegan is a professor at the School for the Future of Innovation in Society, and Consortium for Science, Policy & Outcomes at Arizona State University. He founded and directed Duke's Center for Genome Ethics, Law & Policy 2002- 2012, and Duke-inWashington through June 2016. Before Duke, Deegan worked at the National Academies of Science, Engineering and Medicine 1991-2002; the National Center for Human Genome Research (NIH) 1989-1990; and the congressional Office of Technology Assessment 1982-1988. Holding an MD, University of Colorado and BA in chemistry (magna cum laude) from Harvard, he is the author of The Gene Wars: Science, Politics, and the Human Genome https://dnapatents. georgetown.edu/genomearchive/GeneWars.htm and over 250 other publications.
If you want to read up on Mary Shelley's Frankenstein before the meeting, check out the article in Fine Books & Collections https:// www.finebooksmagazine.com/ index.phtm entitled "Mary Shelley's Monsterpiece" by Jonathan Shipley https:// www.finebooksmagazine.com/ fine_books_blog/2017/11/ frankenstein-revived-andrevisited.phtml
May 10, 2018
"Why We Collect: Leveraging Cultural Heritage Collections for Transformational Change" Presented by Damon E. Jaggers
Learn about library and archival collections in academic libraries from the new Librarian at The Ohio State University. He's worked with some of the greatest and broadest special collections in the country. Damon Jaggers will focus on using collections to spur change in the intellectual sphere.
Damon E. Jaggars assumed the post of Vice Provost and Director of University Libraries at The Ohio State University in 2016. He previously worked for libraries at Columbia University, the University of Texas, and Iona College. His background includes service planning and assessment, collection development and management, and facilities planning and design, as well as building and managing distinctive and unique collections and developing and overseeing information technology infrastructures within research libraries. His work has been published broadly in peer-reviewed journals and conference proceedings, and his editorial service includes board membership for portal: Libraries & the Academy, coeditorship of a special issue of Evidence Based Library and Information Practice, and a stint as editor-in chief of the Journal of Library Administration. He currently serves on advisory boards for the Digital Preservation Network, SHARE, OhioLink, the Big Ten Academic Alliance, as well as on the Diversity, Inclusion, and Equity committee of the Association of Research Libraries.