Alan B. Farmer, Associate Professor of English at Ohio State University, examines the marginalia in the most extensively annotated extant copy of the Shakespeare First Folio, Meisei University's MR 774. Nearly every page of this volume, from the opening scene of The Tempest to the conclusion of Cymbeline, contains underlining, dots, slashes, and notes most likely made by a Scottish reader in the 1620s or 1630s.
While several topics clearly interested this reader, he was more than unusually attracted by the plays' moments of antifeminist misogyny, such as Hotspur's contention in Henry the Fourth, Part One that secrets are "not to be trusted to women," a comment by Hamlet about "women's dissimulation," or Master Ford's conviction in The Merry Wives of Windsor that women are "obstinate in mischief."
Although this reader's notes have usually been viewed as one person's idiosyncratic responses to Shakespeare's plays, Farmer argues instead that the Meisei reader's misogynistic marginalia grew out of a wider set of early modern reading practices taught in schools and universities. In particular, this reader's notes often take the form of commonplaces, that is, sententious adages he either transcribed directly from the First Folio itself or was inspired to create by Shakespeare's plays.
Commonplacing was a ubiquitous reading practice in early modern England, but the Meisei reader's approach to commonplacing women could also lead him to fundamentally misunderstand some of Shakespeare's plays. When he tried to make sense of The Merry Wives of Windsor, he turned the play into a dark fantasy of cuckolds, bawds, and "whoores subtile shifts."
Ultimately, Farmer suggests that the Meisei reader's misogynistic marginalia and misreading of Merry Wives provide us with an insight into different, and more disturbing, ways that Shakespeare was read, interpreted, and appreciated as literature in the seventeenth century.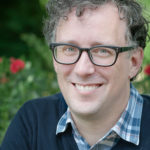 Alan Farmer has published widely on Renaissance drama and the book trade in early modern London. He is the co-creator, with Zachary Lesser, of one of the earliest and most widely used Digital Humanities resources in early modern studies, DEEP: Database of Early English Playbooks, on online resource for studying the printing, publishing, and marketing of Renaissance drama.  He also co-edited, with Adam Zucker, the essay collection Localizing Caroline Drama: The Politics and Economics of Early English Stage, 1625–1642 (Palgrave, 2006). He is currently working on two projects, one with Zachary Lesser on Print, Plays, and Popularity in Shakespeare's England, and the other on Newsbooks, Playbooks, and the Politics of the Thirty Years' War in England.