by Deidre Herring
Deidra Herring, Associate Professor and Subject Specialist for Education, Collections, Instruction, & Public Services at the Ohio State University Libraries, will talk about the Highlights for Children Archive at The Ohio State University Library.
Founded in 1946 in Columbus, Ohio, Highlights for Children has been one of the nation's most successful children's literature publishing ventures and continues to thrive today.  Over 70 years of the magazine's archives are housed in the Rare Books and Manuscript Library at Ohio State University and is a primary research resource for the study of children's literature, cultural literacy, primary education and cognitive development.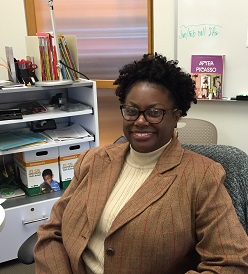 Herring received her Masters of Library Science at the University of Illinois and a B.S. in Education from Central State University in Wilberforce, Ohio.  She has been at OSUL since 2005.  She has presented and published widely in the area of outreach and library user instruction.  In 2016 Herring was the principal curator for the exhibition Fun With a Purpose: Highlights and its Contribution to Childhood Education, an interactive exhibition that took a closer look at why young readers and adults continue to love Highlights magazine. The exhibition was initiated and installed to coordinate with the 2016 annual conference of the Children's Literature Association.