by Roger Jerome and Bill Rich
This program was inspired by the popularity of "Who Wrote Shakespeare: Exploring the Authorship Question," when Harry Campbell and Jay Hoster presented cases for the true creator of the Shakespearean corpus. Rather than a debate, this year's program featured a discussion of Charles Dickens and Anthony Trollope wherein varying perspectives of Victorian Britain were derived from the works of two of the greatest literary artists of the age. The Dickensian perspective was presented by Roger Jerome and the Trollopian perspective by Bill Rich.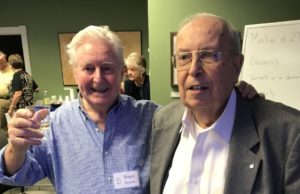 Roger's and Bill's observations were drawn primarily, though not exclusively, from 3 principal works of each author: Oliver Twist, Great Expectations and Bleak House by Charles Dickens; The Last Chronicle of Barset, The Duke's Children and Dr. Wortle's School by Anthony Trollope. Though we wouldn't expect that anyone would make these 6 titles the core of their summer reading, Wikipedia and other sources do provide fine summaries and analyses.