Welcome to The Aldus Society
The Aldus Society is an organization for people who appreciate the many facets of text and image through various media, but principally the book, past, present and future.
2018-19 Aldus Program Schedule
August 23, 1018 (August Discussion): John Bennett, former curator of the OSU Libraries Avant Writing Collection, and Jolie Braun, Curator of the OSU Libraries American Literature Collection, will present a discussion on the history, evolution and relationship between the Avant writing/poetry and the Beat Poetry movements.
September 13: Beth Avila, Editor/Copywriter, "Pirates and Women in 19th Century American Literature."
October 11: Gabriel-Aldo Bertozzi (who founded the international avant-garde movement Inism) & Gabriella Giansante, "Inism: The Evolution and Aesthetics of an International Literary Avant-Garde."
November 8: Eric Obenauf, co-founder of the local Two Dollar Radio (Publishing) Company (he even has an indie bookstore and cafe on the side), about the "The World of Independent Publishing (Indie Presses)."
December 13: Holiday Party (Aldus members only) – details to follow
January 10, 2019: Aldus Collects – 5 or 6 members will present items and stories from their collections.
February 14:  Phil Stichter, local book and ephemera collector and historian, "The Role Ohio Played in the Political Career of Abraham Lincoln."
March 14:  Eric Johnson, The history, highlights and recent acquisitions of OSU Libraries Rare Books and Manuscript's Albrecht History of Architecture Library
April 11:  To Be Announced, but hold the date!
May 9:  local author and Aldus member Linda Mizejewski, shares her book, High Heeled: the Woman Detective in Popular Culture.
Our Next Event at the Thurber House
September 13, 2018 Pirates and Women in 19th Century American Literature, featuring Dr. Beth Avila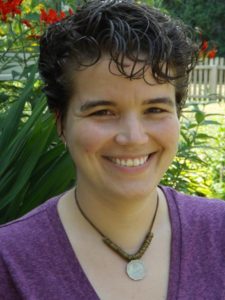 Swashbuckling, handsome and lawless pirates and their beautiful and feisty female captives have long excited the imaginations of readers and, later, moviegoers. However, popular novels and ephemeral stories of 19th Century America often presented alternatives to the gentleman pirate. Within these pages reside violent men, lady pirates, cutlass-wielding virtuous ladies, and female privateers. Dr. Avila examines how antebellum American authors used pirates and female characters to explore social issues surrounding gender roles, the problem of violence and to legitimize unconventional versions of womanhood through fiction.
Dr. Avila earned her PhD in American Literature from the Ohio State University.  Her dissertation was entitled "I Would Prevent You from Further Violence:  Women, Pirates and the Problem of Violence in the Antebellum American Imagination." She received her master's from Miami University in Oxford, OH, and her Bachelor's from the University of Saint Francis in Fort Wayne, Ind.  Dr. Avila writes adventure-oriented science fiction and fantasy stories under the pen name of Beth Powers and currently conducts historical property research for environmental surveys in Fort Wayne.
When asked how she became involved in studying this genre, Dr. Avila wrote:
This was a fun question because I hadn't really thought through how I ended up with this topic. The unexciting, grad-school-made-me-do-it answer is that it grew out of my work on (Catharine Maria) Sedgwick's novels (the subject of her master's dissertation) and my desire to discuss some aspect of those novels that hadn't been discussed before–surprisingly, no one had seemed to notice the pirates! So, I suppose that it wasn't pirates, but women in adventure stories that I was most interested in initially. But even more than that, I think that this topic brings together my academic interests, which one way or another, tend to focus on gender roles in fiction, and my non-academic interests as a fan of adventure-oriented science fiction and fantasy stories, which I also write under the pen name Beth Powers (if you want to check it out, my website is bethpowers.com, and there's at least one pirate story in there :). I think my academic and non-academic interests do run parallel, and although it wasn't a conscious effort, they came together in my study of women and pirates in nineteenth-century American fiction.
To discover a list of ephemeral pirate stories, visit her website at PiraticalPages.com.
Who was Aldus?
Learn more about the origins of the Society and how you could get involved.