Socializing begins at 7:00 pm and the program begins at 7:30 pm, unless otherwise noted.
Parking is available behind the Thurber Center as well as in the State Auto lot off of N. 11th Street.
September 12: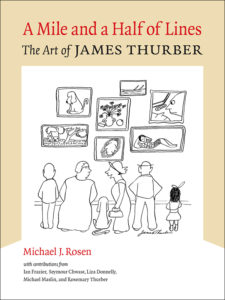 Michael J. Rosen will discuss his new book on James Thurber to be published by The Ohio State University Press in the fall of 2019, as well as his other writing about Thurber. Rosen is an author and illustrator of children's books, poetry, and adult nonfiction, and an editor of anthologies. He was literary director of Thurber House in Columbus and has taught writing extensively.
October 10:
Richard Polt will discuss the history of the typewriter, including the writers who used them, including those who continued composing on into the 21st century. Polt, an expert on the history of typewriters, is active on the "Typosphere" and a former editor of the quarterly ETCetera publication about manual typewriters. He is a professor of philosophy at Xavier University in Cincinnati.
November 14:
Alison Beach, historian of medieval history at The Ohio State University, author of Women as Scribes: Book Production and Monastic Reform in Twelfth-Century Bavaria. Her work is based on her own research into the theory and remarkable evidence that women were actively involved in the production of medieval religious texts, which has recently been featured in stories in New York Times and other publications.