November 14:
Female Scribes in Medieval Europe

A talk by

Dr. Alison Beach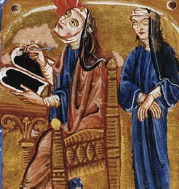 The popular image of a tonsured medieval monk meticulously applying ink to parchment is accurate as far as it goes, but in recent years the scene has been broadened to include nuns occupied at the same task. Dr. Alison Beach, a recognized expert in the field, will present the historical and scientific evidence clearly supporting that fact. And while she's at it, she'll also familiarize us with some of the production techniques that produced the stunning hand-lettered and illuminated sheets that impress us to this day.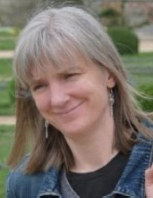 Alison Beach, a professor of history at the Ohio State University, completed her B.A. in history at Smith College in 1985 and her Ph.D. in religion at Columbia University in 1996. She also holds an M.A. in history and an M.Phil. in religion from Columbia University. Her main interest is in medieval history, an area in which she has written three books, including Women as Scribes: Book Production and Monastic Reform in Twelfth-Century Bavaria (Cambridge University Press).
At the Old Location: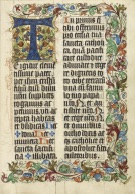 The Thurber Center
91 Jefferson Avenue
Socializing begins at 7:00 p.m.
The program begins at 7:30 p.m.
The evening's program is free and open to the public
December 12:
Holiday Party (Aldus members & guests)
January 9, 2020: 
At Aldus Collects, members present items from their collections.
February 13, 2020:
A panel discussion on bookselling with Linda Kass, proprietor of Bexley's Gramercy Books, and former book store proprietors (and members) George Bauman and Tony Sanfilippo, will be moderated by member Jay Hoster, another former bookseller.
March 12, 2020:
Jeff Smith is the New York Times Best-Selling author of the award-winning series, BONE, which launched Scholastic's graphic novel imprint, Graphix, in 2005. A co-founder of the 90's Self-Publishing Movement, and an early adopter of the graphic novel format, Smith has written and illustrated other successful comics series: RASL, the story of a Tesla-obsessed, dimension jumping art thief, Shazam! Monster Society of Evil for DC Comics and books for beginning readers: Little Mouse Gets Ready (TOON Books) and Smiley's Dream Book (Scholastic/Graphix).
In 2009, Smith was the subject of a documentary called 'The Cartoonist: Jeff Smith, BONE and the Changing Face of Comics', and in 2013, he was the guest editor of The Best American Comics.
In 2015, Smith established the Cartoon Crossroads Columbus (CXC) comics festival in downtown Columbus, which is now in its 5th year. He is currently working on TUKI Volume 1: Two Million Years BCE, about the first human to leave Africa, set for release in 2021.
He continues to make and promote comics around the world.
April 9, 2020:
Frank Mowry is one of the world's leading experts in paper conservation and restoration and was head of conservation at Folger Shakespeare Library.
May 14, 2020:
TBA.